Katalon Automation Recorder Quickstart
Thank you for using Katalon Recorder – the champion project of Katalon Hackathon. This is the Selenium IDE-compatible replacement on latest Chrome and Firefox that helps record, play, debug, manage automated tests, and export to C#, Java, Ruby, Python, Groovy, or Robot Framework.
To make the best use of the tool, we encourage you to go through this quickstart and a detailed free course.
🎁 We also offer Katalon Studio – a comprehensive cross-platform automation testing solution for Web, Desktop, Mobile, and API testing with modern methodologies (Data-Driven Testing, TDD/BDD, Page Object Model, etc.) as well as advanced integration (JIRA, qTest, Slack, CI, Katalon TestOps, etc.). Learn more about Katalon Studio features.
Categories
Katalon Recorder
Katalon Studio
Advanced IDE
No
Dual interfaces with Eclipse alike editor
Intelligent Locators
ID, Name, Xpath
ID, Name, Xpath
CSS and convenient combinations
Rich assertion built-in functions
Yes
Yes, advanced
Supporting Test Application
Web Application
Web Application – Webservices – Mobile
Supporting Browser
Firefox, Chrome
Firefox, Chrome, IE, Safari, Remote, and Headless
Integration
Katalon Analytics
Katalon Analytics
Test Management – Defect Management – CI/CD
Team Collaboration
No
Git
Test Management
No
Test Planning, Test Execution and Reports
Test Scripts
Plain test scripts
Code is not reusable
Difficult to maintain
Good structured with POM (Page Object Model)
Code is highly reusable
Easy to maintain
Data-driven
No
Multi data-driven approach: databases, external files
Action keywords
Default Selenese
Rich built-in keywords
Ability to create advance custom keywords
Reports
No
Reports, debug and dashboards via Katalon Analytics
Table of contents
1. Katalon Recorder User Guide
Katalon Automation Recorder main UI contains 4 sections as follow:
Main Toolbar
Test Case/ Suite Explorer
Test Case Details View
Log/Reference/Variable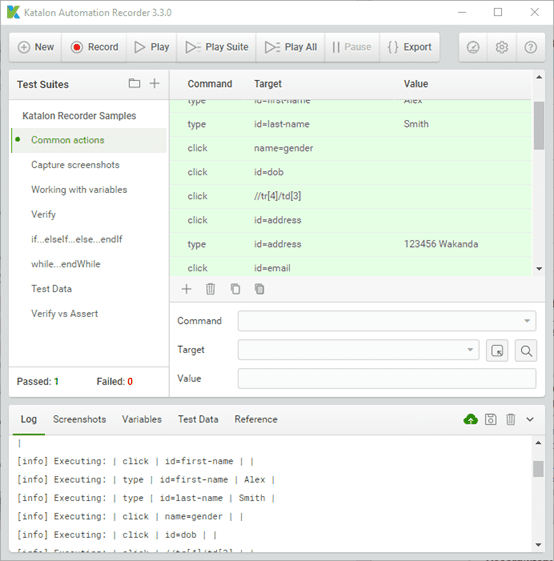 Details of each section are explained below
1. Toolbar
Katalon Recorder main toolbar contains buttons to help you to manage web recording process.
| | |
| --- | --- |
|  Button |  Description |
|  New |  Create new test case or test suite |
|  Record |  For recording automation test |
|  Play |  Execute selected single test case |
|  Play Suite |  Execute selected test suite |
|  Play All |  Execute all test suites |
|  Pause/Resume |  Pause and Resume current execution |
|  Stop |  Stop recording or the current execution |
|  Export |  Export current test suite/test case to various scripting languages and framework |
|  Speed |  Adjust execution speed |
|  Setting |  Port configuration for Katalon Studio Users. Allow users to change the default port used by Katalon Studio to communicate with the active browser |
|  Help icon |  Katalon Automation Recorder User Guide |
2. Test case explorer
The Test case explorer view displays the structure of the test suite and its test cases, helping users to organize, browse and quick access to any test cases. Open/Add Test Suite can be performed quickly by clicking on correspondent icons on the upper right corner.
Test execution status is also displayed here at the bottom. Users can immediately aware of the number of passed or failed tests.
3. Test case details view
Katalon Automation Recorder will display recorded test script in the test case window. It displays command and its parameters in table format. Users can also Drag and Drop any test step to organize the test case.
Editing Test Case
Katalon Automation Recorder allows the user to edit any recorded commands or added the new command at any point in the steps.
Command, Target, Value display information of currently selected command. This entry field is modifiable.
To edit, select the step to be changed and edit it using the Command, Target, and Value fields.
Command text field will display a drop-down menu to suggest commands based on the entering characters. Katalon Automation Recorder supports most of common Selenium commands.
Actions – Commands that reproduce user interaction on the application under test.
Accessors – Commands are used to store the results in variables.
Assertions – Commands that verify the application under test behave as expected.
For more details about Selenium commands, refer to this link.
For more detail list of support commands, refer to this document.
Context menu
Right click on any space in test case details views to display the context menu. Users can perform most of the essential actions for command at any preferred test step. Context menu contains:
a. Managing Test Case
| | |
| --- | --- |
| AddCommand | Insert a new command in the current selected step |
| Delete Command | Remove a single selected command |
| Delete All Command | Remove all commands of the current selected test case |
| Copy Command | Copy the current selected command |
| Paste Command | Paste a command at a particular test step |
b. Debugging Test Case
| | |
| --- | --- |
| Toggle Breakpoint | Set a breakpoint to stop at a specific command for debugging purposes |
c. Execute
| | |
| --- | --- |
| Execute This Command | Run a single command for prompt feedback |
Users have multiple options when it comes to execute test cases in Katalon Automation Recorder including Play a single test case, Play All test cases in test suites, Pause and Resume, or even execute a single Command from context menu while composing automation test.
4. Log/Reference/Variable
Log
The Console Log Viewer shows the real-time report/log of the test execution. All execution errors message, information message and execution progress are displayed here.
Reference
The Reference tab displays the detail documentation of selected command. It helps users to ensure the correct types and the number of parameters for the command.
Variable
The Variable tab display detail information the current selected command. Users can view command name, target, and values in this tab while the test is executing.
2. Katalon Recorder Release Notes
For more details, please visit: https://docs.katalon.com/x/JwHR
 3.4.0

Supported plugins for export recorded Test Cases to other formats

Fixed bugs

3.3.2

Supported testing file inputs

3.3.0

Improved performance

Added XML formatter

Supported loading variables from CSV file

Added if…elseIf..else..endIf statements

Added while..endWhile statements

3.2.0 – 3.2.2

Supported screenshot capturing

Allowed sharing variables across test cases

3.1.0

Improved logging: Start Time, End Time, Browser, OS.

Supported for uploading logs to Katalon Analytics (Beta).

3.0.3 – 3.0.4

Supported exporting to C# and MSTest framework.

Fixed bugs

3.0.0 – 3.0.2

Added new features: Play Suite, Play All, Speed Configuration, Pause, Resume.

Supported debugging: Pause, Resume, Breakpoints, Variables View.

Improved logging: Save, Clear.

Improved Test Cases authoring: Copy, Paste.

2.2.0

Added support for offline mode in Chrome.

Added support for Glob & Regex patterns in Assert & Verify commands.

Added confirmation before delete all test steps.

2.1.0

Added support for CSS locators.

Added support for runScript & storeEval commands.

Fixed a bug in store… functions.

Fixed a bug in string interpolation.

2.0.0 – 2.0.9

First releases with Selenium IDE-based features: Record, Play, Selenese, Export to other programming languages and frameworks.

Fixed bugs.
3. Katalon Recorder FAQs
For more details, please visit: https://docs.katalon.com/x/7gHR
Does Katalon Recorder add-on collect the data and send to external services?
Katalon Team do NOT collect any end-users data. Katalon Recorder's autosave feature will only save test artifacts on the local machine.
Will Katalon Recorder be maintained regularly?
Katalon Team commit to maintaining Katalon Recorder up to date and keeping the tools free of charge. 2018 Products Roadmap will be soon available to all users.
Is Katalon Recorder available for commercial use?
Katalon Recorder is free to use on any projects (commercial or not) of yours. But it's prohibited for you to sell/redistribute/decode Katalon Recorder.
Have questions, feedback, or bugs report? Please submit here.


Trigger modal